Stormin 'Norman Band to Bring Sounds of NOLA to the Jersey Shore on June 19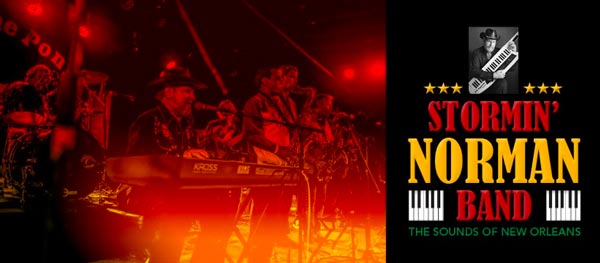 (LAKE COMO, NJ) – Live music is back and The Stormin 'Norman group brings the sounds of New Orleans to the shore with two shows on Saturday, June 19 at Bar Anticipation in Lake Como. Led by Norman Seldin, the band will make you feel like you're in NOLA with classics from Fats Domino, Lloyd Price, Little Richard, Jerry Lee Lewis, Big Joe Turner and more. The performances take place at 4:00 p.m. and 7:00 p.m.
"There is nothing like a live performance and very excited to take the stage with this incredible group of talented musicians and singers," said Norman Seldin. "I could say the best band members I've ever had! The show is indoors at Bar A and advance tickets are only available at their box office. We needed to have The Stormin 'Norman Band so people could see it before summer started! There is little seating but it's live and that's what matters.
The show features pianos dueling between Seldin and Ryan Gregg; a group of stars with Pam McCoy, Chuck Lambert and 5 saxophones. In addition to the music of NOLA, you can expect to hear songs from artists as diverse as Bonnie Raitt, Linda Ronstadt, and John Prine.
"You can hear 'Angel From Montgomery', 'Different Drum', 'Stagger Lee', 'Flip Flop & Fly', 'The Thrill Is Gone', 'Blueberry Hill', 'Ain't That A Shame' and more again !" exclaimed Seldin.
The return of live music is exciting, but it's only part of an exciting time for Seldin. A book on the life of Seldin, written by historian Charlie Horner, is expected to be released worldwide around the end of July and a special Seldin cd / vinyl will be released soon as well. The new record covers material and artists Seldin has always loved and features a plethora of guest singers including Larry Chance ("The Earls") Pam McCoy, Jillian Rhys McCoy, Doreen Ambrusio, Vini Lopez, Leon Trent, Nicky Addeo, Joel Katz, Elena Bennett and Diane Pryor.
As many music fans know, the world has to thank Seldin for "introducing" Bruce Springsteen to the talented Clarence Clemons when he saw the Big Man perform in Seldin's band Joyful Noyze. But his career notes go much further than that.
Seldin has had a long career in the music business as an artist, promoter, band manager, label owner and booking agent. As a musician, he was the youngest member to join the American Federation of Musicians at the age of 13. Seldin has appeared on stage with Roy Orbison, The Temptations, Bo Didley, Freddy King, Bruce Springsteen, Waylon Jennings, The Allman Brothers. , Chuck Berry, Patti LaBelle, Bobby Rydell, The Rascals and The Drifters, to name a few.
"The true life story began about 3-4 years ago and after six months the writer developed cancer and passed away," Seldin recalled. "I was devastated and let it go until I could find a real well educated, truthful and honest historian like Charlie Horner who has been following me for years and that was the perfect match. Luckily, real ones. stories from newspapers and magazines were put together that I didn't even know about, as well as advertisements and articles from all over the world that I had never seen, so that a true story of myself could be told.
"Even the cover design is done by a close longtime friend, Susan Wacker-Donle, who was the packaging design manager at Elizabeth Arden for seventeen years, so it's all very exciting," a- he added. "The title of the book will be 'You Don't Know Me', the true story of Stormin 'Norman Seldin, so it's special … very special!"
Seldin wasn't afraid to have his whole story told – the good and the bad. He believes many of his fans, and even those who have known him for decades, will be surprised at what they learn from the book.
"I am delighted with the exact words and situations as they actually happened and I would say that 90% of friends, even very close ones, have no idea what has happened in my life because it never happens. not focus on Monmouth County, Asbury Park or New Jersey, "Seldin said." You'll have to read it for yourself to understand my life and some of it wasn't pretty, but I love it. honesty and the way she is presented by Charlie Horner as I told her. "
Advance tickets for The Stormin 'Norman Band on Saturday June 19 are only available at the Anticipation Bar box office. Click here to buy tickets. Bar Anticipation is located at 703 16th Avenue in Lake Como, New Jersey.
originally published: 02/06/2021
---
---
---
---
---