The Passage Theater presents an outdoor reading of the "OK Trenton Project" on June 12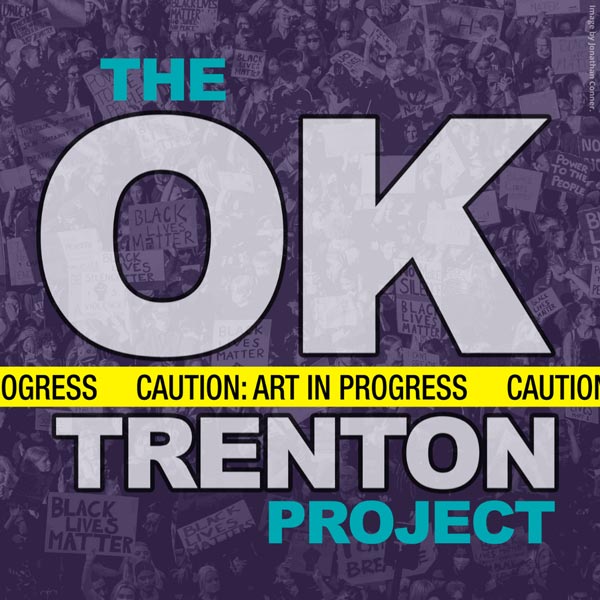 (TRENTON, NJ) – Passage theater company presents an outdoor reading of The OK Trenton Project, written by David Lee White, Richard Bradford and members of the OK Trenton Ensemble and directed by C. Ryanne Domingues, on June 12 at 5:00 pm. This piece is developed as part of Passage Theater's PlayLab program.
The OK Trenton Project is a documentary-style play about the reaction to a community sculpture titled "Helping Hands," which was designed and built by local students and set on vacant land owned by the town of Trenton, New Jersey. Following concerns that the sculpture looked too much like a gang symbol and could send the wrong message to residents, the piece was eventually removed. Told through the words of Trenton law enforcement, city officials, artists, residents and students, this play tells the story of what a work of art can mean to a community.
The whole project is composed of Kevin Bergen (him, him, his), Richard Bradford (him, him, his), Carmen Castillo (them, them, theirs), Jonathan Conner (him, him, his), Jane Cox (her, her, hers), Victoria Davidjohn (her, her, hers), Ryanne Domingues (her, her, hers), Kara Jönsson (her, her, hers), Alexandra Kostis (her, her, hers), Dara Lewis (her, her, hers), Bruce Lindsay (him, him, his), Robin Shane (her, her, hers), Wendi Smith (her, her, hers), Yoshinori Tanokura (him, him, his)and David Lee White (him, him, his). Some of these people are performers, while others are designers, writers, stage managers or visual artists. As an employer, Passage Theater Company supports an individual's right to use gender-inclusive pronouns when identifying themselves without judgment or assumption. Help us honor the right of our artists to choose by using the pronouns shown next to their name when referencing them individually.
The reading will take place at the amphitheater inside Mill Hill Park with social distancing and other precautions to ensure the safety of the public and performers. Members of the public will be seated in modules 6 feet apart. Masks are mandatory for customers when they are not seated in their pods; however, they can be removed when seated. Members of the public are encouraged to bring seat cushions for maximum comfort while reading. Instead of tickets, Passage recommends a suggested donation of $ 10 per person or $ 25 for groups of four. The funds will be used to pay the artists participating in this event. Reservations will be required and can be made online at www.passagetheatre.org.
Passage is pleased to announce that Wegmans Grocery Store in Princeton, New Jersey generously donated bottled water for performers and patrons to consume during the outdoor event. Passage is sincerely grateful for Wegmans' support for this project and the community of Trenton.
Tickets are now on sale for the outdoor reading of Passage The OK Trenton Project by David Lee White and Richard Bradford and members of The OK Trenton Ensemble and directed by C. Ryanne Domingues. Suggested donations for tickets are $ 10 per person or $ 25 for a group of 4 people. For ticket reservations, visit www.passagetheatre.org, or call us at (609) 392-0766.
Artistic Director of Passage and Director of The OK Trenton Project, C. Ryanne Domingues, declares "We are incredibly excited to return to the performances in person, and to do so with a show so close to our community. We've all been apart for so long, and thought this would be a great way to say hello to our neighbors and have a shared (socially distant) experience to kick off the summer months. We are sharing the OK TRENTON PROJECT script at this stage of its development so that local residents can ask questions and provide feedback on the play. We've been working on this for years and now it's time for the community to see what we've been up to!"
Passage's PlayLab creates and develops new works to advance and diversify the art form and our collective culture, providing emerging and established playwrights with a platform to share diverse perspectives on complex and important issues. Passage's PlayLab has two main components: designed work and new game development. As part of the PlayLab program, The OK Trenton Project is in development into a full production which will premiere at Passage in February 2022.
The Passage Theater season is made possible in part by Anonymous; Janssen Pharmaceuticals; Mary G. Roebling Foundation; Mathematica Policy Research; NJ State Council on the Arts, a partner agency of the NEA; The National New Play Network Bridge program; New Jersey Arts and Culture Revival Fund; New Jersey Manufacturers (NJM); New Jersey Theater Alliance, the stage festival; New State Council for the Arts, NEA; NJ Economic Development Authority; Otsuka Pharmaceutical; Princeton Area Community Foundation; PNC Bank; The Bunbury Fund of the Princeton Area Community Foundation; City of Trenton; The Curtis McGraw Foundation; The Geraldine R. Dodge Foundation; The Horizon Foundation for New Jersey; The MAP Fund; The Shubert Foundation; Thomas Edison State University; Downtown Trenton Association; Trinity United Methodist Church, Ewing, NJ; Virginia Brown Martin Fund of the Philadelphia Foundation; Wegmans Princeton; and WIMG 1300.
originally published: 05/27/2021
---
---
---
---
---